Citizen Writes
Research hot topics
Tropical ocean climate swings sensed by corals
2021-08-06
By Professor Jens Zinke
Over the past three decades the tropical oceans have warmed considerably, with the global hotspots of warming located in the Indian Ocean. However, our knowledge of ocean temperature changes is severely limited by sparse observations pre-dating the satellite period (1981). My aspiration is, therefore, to close this knowledge gap and develop reliable, long-term reconstructions of ocean temperature, rainfall, circulation and pollution levels from geochemical information locked in massive coral skeletons.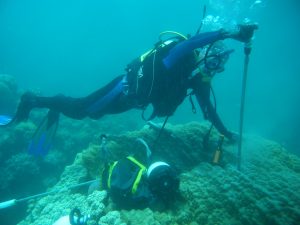 Every scientist who starts a research project on almost any subject related to the Indian Ocean will find that this smallest of our tropical ocean basins is one of the most underrepresented in the scientific literature.  Yet, on the fringes of the Indian Ocean half of the human population resides and their well-being is most tightly related to climatic changes that arise from its oceanic reservoir. For hundreds of years, the Indian Ocean was a melting pot of cultures along the seafaring trade routes between the kingdoms of Eastern Africa, the Arabian Peninsula, China and later Europe. Most of the trade routes were shaped by the Monsoon winds and resulting ocean currents which ultimately dictated the season of trade. Thus, for many centuries Indian Ocean climate variability and change have been affecting every corner of marine and terrestrial biosphere-atmosphere interactions, and also that of human societies.
In the 21st century, Indian Ocean rim countries and their ecosystems were found to be most vulnerable to anthropogenic climate change, the latter through increased climate variability and extremes paired with limited resources for adaptation and mitigation. It has been my goal to contribute to a better and foremost more accurate understanding of Indian Ocean climate variability and change over the past centuries, with the ultimate aim to inform those responsible for taking appropriate measures to protect the marine and terrestrial habitat of all whose livelihood depend on this area.
My team of PhDs and collaborators in Africa, Europe, Asia and Australia read the geochemical information incorporated into stony corals. These corals are the iconic sentinels of the Tropics, they naturally sense past and current tropical climate and environmental change and variability over their long, multi-century life span. The oldest corals we work with are >600 years old and they incorporate isotopes and trace metals from seawater into their skeleton proportional to environmental factors, so-called proxies. Coral reconstructions extending back for centuries provide a link between the observational period and lower-resolution sediment archives. This is of high relevance for comparisons of climate proxy data with model simulations of reef ecosystem dynamics and global/regional climate. Well-preserved fossil corals provide high-resolution snapshots for time intervals of the past thousands of years delivering true benchmarks for the full range of natural climate variability that can be contrasted with current climate extremes and those expected for the end of the 21st century.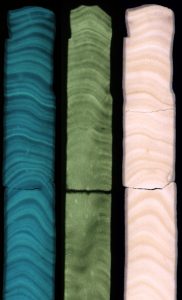 Currently, our team's focus is on corals from biodiversity hotspots in Madagascar and the Scattered Islands, Malaysian Borneo and from the northwest Australian tropical seas. This research is at the core of my Royal Society Wolfson Fellowship. In 2019, a few month before the Covid-19 pandemic started, I boarded a research cruise with the French vessel Marion Dufresne II. We collected modern and fossil coral core samples from the uninhabited islands in the Mozambique Channel. These corals, together with the Madagascar cores, will allow PhD student Manlin Zhang to reconstruct the climate variability in a region that may serve as a coral refugia under ongoing global warming. We aim to establish climate linkages with Madagascar's land climate to improve understanding what is driving the current severe drought conditions battering the island. The northwest Australian corals date back to 1771 and will enable PhD student Hedwig Krawczyk to reconstruct pantropical climate interactions between the Indian and Pacific Ocean along the only tropical gateway in our Planet's oceans. Massive amounts of heat and salt are exchanged, driving changes in the physical environment in vast stretches of uniquely biodiverse coral reefs. The oceanic temperatures, in turn, drive rainfall anomalies over the Australian and southeast Asian Continents. We strive to unlock the ocean's role for continental climate change far beyond our current observational capacities.
Malaysian Borneo, right in the heart of the Maritime Continent, harbours a number of undiscovered coral reefs influenced by climatic processes, such as the recurring El Nino phenomenon that can lead to coral mortality events due to heat stress. Additionally, recent land use change (intense deforestation, expansion of palm oil plantations) has increased the exposure of coral reefs in Borneo to anthropogenic pressures through freshwater, sediment and nutrient discharge. That is why Borneo is a key site to address multiple stressors affecting coral reefs. PhD student Walid Naciri is working with remote sensing scientists at Leicester and sedimentologists in Malaysia to build a 100 year record of land use change affecting nearshore coral reefs. Such long-term information will be crucial informing necessary steps to curb adverse impacts from land use and climatic changes with potential catastrophic impacts on coastal and marine resources.
Watch Professor Zinke discuss his work in a video for the Royal Society.