Citizen Writes
Research hot topics
Leicester, Granny and me
2021-07-27
By Dr Katy Bennett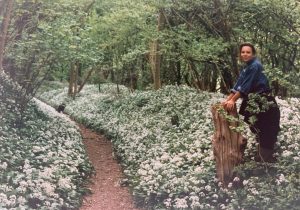 I've always been interested in community life and how people live together.  I grew up in a rural community, which shaped my early research concerns – especially how agricultural restructuring was transforming the lives of farming families and the communities those families shaped.  A lot has changed since I was young; my siblings and cousins have left farming to make a living in other ways and in new places.  Where I was raised, folk felt they had plenty in common, roots in a place, interconnected families and neighbours they knew.  These themes are often seen as the key ingredients of community.  Everyone knew my Granny, the matriarch in our family, who was widowed when her youngest of six children was aged 2.  She was as strong as an ox, respected by many, and feared by a few.  On the windowsill in her kitchen she had a mug inscribed with the words 'Work is fun'.  She died when I was 17 and in her last letter to me, she wrote about the 23 lbs of marmalade that she'd made and was busy delivering to friends and family.  As one of her many grandchildren, I was referred to as 'a Bennett'.   Exactly which one wasn't really relevant, but my farming family was stitched into the fabric of that community.  
I now live in Leicester, a city shaped by migration, ethnic and cultural diversity and a dynamic population of more than 330,000. The concept of community doesn't really work in Leicester – or at least the kind of togetherness dependent on its traditional, symbolic parameters, such as exclusivity, what people have in common and dense, long-term connections with a place.  Whilst recent writing on community has ignited its more radical associations involving collaborative practices, communing, mutuality, doing things together, it still depends on what people have in common.  Leicester is a place shaped by difference and feeling at home depends on how that difference is accommodated – or at least muddled through and negotiated in everyday contexts of school, university, work and leisure activities. I want to understand better what togetherness involves for people who live in cities like Leicester, sharpening up analytical tools in the process.  In a project funded by the ESRC, I've been working with fellow Geographers Professor Sarah Neal, Professor Allan Cochrane and Professor Giles Mohan on the concept of conviviality, which is different to community, but still concerned with how people live together.  Like community, conviviality involves how a sense of togetherness is accomplished, but unlike community it involves a lighter mode of togetherness shaped by polite, friendly distance, civil inattention, rubbing along together and negotiating difference in a context that can involve social harms and racism.  Next time you're somewhere like a park, the library or Nando's, think about what those small smiles, sharp looks, passing comments and unexpected moments add up to in terms of how you feel about living together in a place. That's what interests us. 
Leicester, with its black and ethnic minority groups shaping more than half of its population, has had more than its fair share of attention, including a Channel4 documentary 'Make Leicester British' (2014) and more recent COVID-19 stories of the city, which focused on, and fuelled, cultural and ethnic divisions.  I lead a project funded by the Leverhulme Trust, working with my Leicester colleagues Dr Stefano De Sabbata and Dr Zoe Gardner to explore and challenge representations of Leicester. The goal of our project is to map places better in terms of how their ethnic and cultural diversity is lived and experienced on the ground. Sparking this project is frustration with existing maps of ethnically diverse cities like Leicester, which draw on census data to show who lives where. These maps can leave observers thinking that people live separately in ethnic and cultural ghettoes, when this is not always the case. The problem with this kind of mapping and representation is that they leak, unchallenged, into public consciousness, shaping debates and policies concerned with multicultural Britain. Although Leicester is one of the UK's most ethnically diverse places, the city is woven into a bigger picture of Britain's growing cultural and ethnic diversity. In 2011 20% of people in England and Wales identified with an ethnic group other than white British compared with 13% in 2001. The recent 2021 census will show even greater diversity. Leicester is not particularly unique. The point of the project is not to smooth over contradictions and different experiences of multicultural Leicester, but to map experience generated through our research with young people and sentiment analysis of aggregate, volunteered geographic information – data that people provide voluntarily that we collect and examine digitally.   
I think we're breaking new ground in Digital Geographies, working creatively and innovatively with Twitter data (analysing more than a million Tweets involving Leicester), examining how social media platforms mediate togetherness, interviewing young people in virtual reality environments and mapping and visualising data. I'm not sure what Granny would make of any of this, big words and showiness didn't impress her, but I know she'd like our work with geography students, igniting a new generation of Geographers.  And she would definitely love that I still make marmalade every January, delivering a jar or two to close friends and family.